Warhawks' record-setting run ends in postseason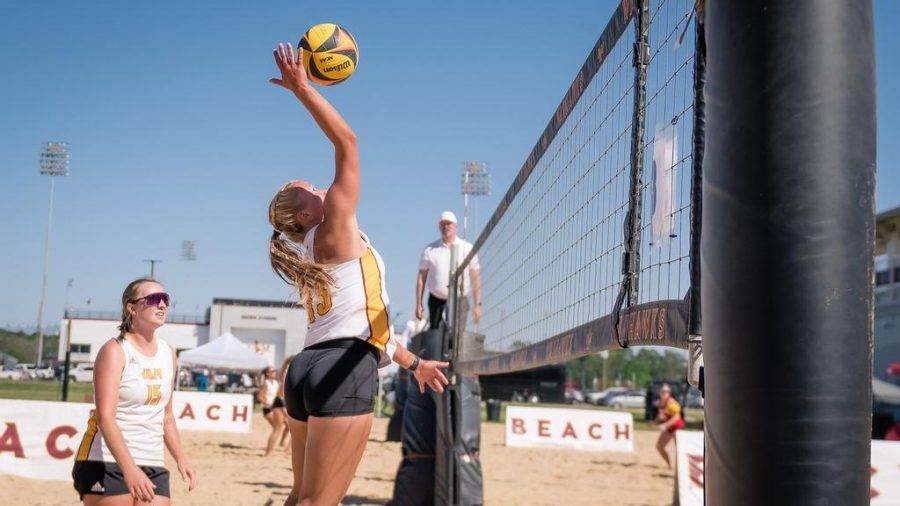 The historic 2023 season for the Warhawks came to an end on Friday in the first-ever Sun Belt Conference Beach Volleyball Tournament.
ULM (31-4) came into the tournament as the fifth seed out of eight Sun Belt teams. The tournament consisted of a double-elimination setup, with teams earning their first loss being placed in a loser's bracket. Two losses and it's a bus ride home.
It all came down to a win-or-go-home fifth match between Hallie Phelan and Taylor Pierce for Southern Miss and Kaitlyn Nowak and Madeline Marquez for the Warhawks. Southern Miss took the first set before ULM won set two. The Golden Eagles clinched the match and the win with a 15-12 set three win.
The Warhawks drew the fourth seed in North Carolina Wilmington (15-14) in their first match. The Seahawks came into the match hot with a five-game winning streak.
UNCW claimed the first match with a two-set win over Brooke Hoven and Tamsie Black 21-10, 21-1 to take a 1-0 lead. ULM evened the score with Nowak and Marquez defeating Bri Haggerty and Lyvia Trimp in two sets. Kaylie and Kaitlyn Beck took down Kaley McLaughlin and Maddy Folks to help the Warhawks take a 2-1 lead. ULM sealed the win with Avery Reynolds and Claire Williamson beating Jadyn Berry and Sarah Thompson in three sets.
With the win, the Warhawks move on to the winner's bracket. They were matched up against top-seeded Georgia State (20-16), which ranked No. 14 in the American Volleyball Coaches Association Beach Top 20.
In the first match, Destiny White and Aliisa Vuroinen defeated the Beck sisters in two sets. Reynolds and Williamson also lost in two sets to Maddy Delmonte and Ayla Johnson 21-13, 21-15. The Panthers won the game 3-0 with a two-set win over Nowak and Marquez.
With the loss, ULM moved to the loser's bracket, where it eventually matched up with sixth-seeded Southern Mississippi (18-24).
The Warhawks started strong in the game by winning the first match, with Reynolds and Williamson winning in two sets. ULM continued its winning streak, with Hoven and Black winning 21-19, 21-12. The Golden Eagles retaliated with a two-set win over Julia Blazek and Rylin Adams to narrow the lead to 2-1. Southern Miss tied the game with a tight three-set win over the Beck sisters. The Golden Eagles won the game in the third set, and ULM's season was over.