Volunteers band together, clean yards after hurricane
After days of living in a hotel, Lindsay Wilkerson and Kathy Spurlock drove up to their home the week after Hurricane Laura, to find their yard spotless, as if it had been untouched by the storm. But that's not how they'd left it.
They'd had to leave because of the power outage, and while they were gone, volunteers from ULM had cleared all the debris out of their yard.
"When we drove up to our home on Monday afternoon after learning we had power again, our yard was spotless, with all the yard debris neatly stacked on the curb," Wilkerson said. "My wife started to cry and I was speechless. It was truly heartwarming."
In the aftermath of Hurricane Laura, ULM banded together to clean up the community. The hurricane hit Monroe on Thursday morning, Aug. 27. The following Monday and Tuesday, ULM students, faculty and staff went out and helped remove debris from people's yards.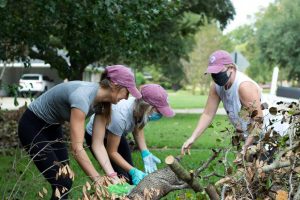 Over 160 people volunteered to help during those two days, according to Julia Letlow, executive director of external affairs and strategic communications. They were split into different groups and went out to clean yards of ULM faculty, staff and other community members.
Letlow said approximately 45 homes were cleaned. They were mostly homes of ULM employees and alumni, but there were also homes of other community members in need whose names were provided by United Way.
"When our community hurts, we all hurt," Letlow said. "It becomes clear how we are all one when students and staff have the opportunity to serve in times of need."
One of the volunteers, Jayden Mount, volunteered because she believes, "One of the most precious gifts you can give is your time even though you may never get paid back."
The exercise science masters student said she wanted to help out the community that has had such a great impact on her.
"It is important for us to help around the community in times like this because I believe love is putting others before yourself," Mount said. "We all came together to serve others and I'm just so blessed to have this wonderful opportunity."
Dylan LaBoeuf was another student volunteer. His home is only 30 minutes away from Lake Charles, an area that was severely hit. He said that he wanted to help his community in Monroe like his father is doing in DeRidder.
He and his brothers from Pi Kappa Alpha were able to remove debris from 25 houses altogether, and he said that the clean-up was an opportunity for ULM to connect with the community.
"It's apparent that Monroe and ULM are two separate entities just coexisting," the junior pre-pharmacy major said. "Thanks to Dr. Litolff, we were able to reach out to our community and help those people."
Letlow said that she, also, was thankful for Litolff's leadership, as the initiative for the community clean-up was brought forth by him.
"I could not be prouder to be a Warhawk," Letlow said. "The turnout of students, faculty, and staff who were willing to lend a helping hand and who would not stop until the work was done was inspiring."