Trunk or Treat proves 'spooktacular'
Hang on for a minute...we're trying to find some more stories you might like.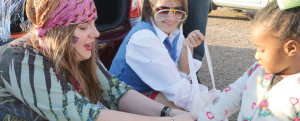 Kids lined up with their parents in a gravel parking lot dressed as the most spooky, humorous and magnificent creatures from the depths of their imaginations.
Student groups filled bowls and cauldrons in the backs of their black and orange lined cars with candies and sweets that dazzled the taste buds.
Laughter and anticipation filled the air and grins lined the faces of the little monsters and princesses  Friday evening.
The line to enter the candy haven wrapped around the parking lot, with more than 200 children ready for a night of sweets.
Halloween was celebrated at ULM's annual Trunk or Treat event, hosted by Up 'Till Dawn, which is the collegiate fundraising organization of St. Jude Children's Research Hospital.
Trunk or Treat gives students an opportunity to give back to their community while having fun and enjoying the festivities themselves. Students lined the parking lot in front of the track field with costumes donned and candy in tow.
Marissa Wright said  the event was one of her favorites.
"I love the costumes and seeing what everyone else is wearing," said Wright, a senior secondary education major.
Trunk or Treat provides students the opportunity to help out their community and to give parents a safe and secure environment for their children.
Member of the Up 'til Dawn executive board Hannah Mosher said  the organization is passionate about fighting for kids in general.
"It's humbling to work with such awesome and inspriting people," said Mosher, a junior biology major.
Mosher said her favorite part of the event was getting to work with
college students and organizations to make a difference.
"It was so incredible to see the joy and excitement that it brought to some of our community," Mosher said.
Kallie Etheridge, a member of the North Monroe College Ministry team, said the event was a great way to give back.
"We wanted to come and help out and serve the kids. I love giving out candy and personally love the Halloween sweet treats," said Etheridge,
a junior education major.
Several sororities were represented such as Zeta Phi Beta. Amanda Manning, a senior health studies management marketing major, said it was one of the main fall events for participation.
"I've done it in the past and wanted to do it again. I also love seeing all the kids in their costumes," Manning said.
Alpha Omicron Pi members also came out to pass out candy. Mallorie Hays said Trunk or Treat was an event she always looked forward to.
"We worked it the last year and it was a lot of fun and we wanted to come out again," said Hays, a senior English major.
A small costume contest was held for teams participating, with the frog themed trunk of Beyotiful coming in first place.
North Monroe College Ministry's 'Lego Movie' theme swept second with the Hawkeye's 'Alice in Wonderland' trunk taking third.
The event gave parents a chance to take their kids out trick-or-treating without the fear of having to worry about their children's safety and wellbeing.
ULM PD watched over the event and was assisted by the countless eyes and ears from the students and parents that were participating in the activity.
Jill Corn, a parent at the event, said traditional trick-or-treating was proving less safe each year.
"We wanted somewhere safe to go and it's not as safe to go through the neighborhood as it was at one time. Events like this present a good area to go," Corn said.
Khayl Moore, a parent at the event, felt that Trunk or Treat was the best option for children.
"I think coming out here is a lot safer than going door to door," Moore said.