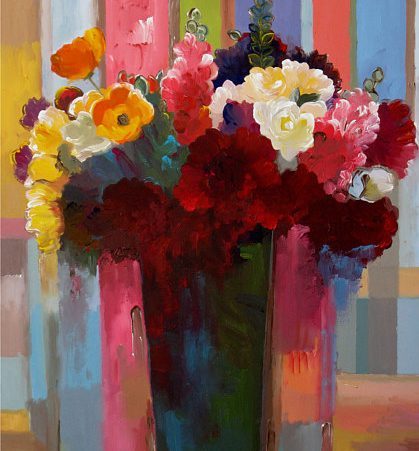 Hooshang Khorasani's confident hand swirls bold colors and bright lines onto a blank canvas. What may seem like a chaotic mess of paint is a carefully strewn work of art.
Khorasani is a local artist whose works remain on exhibit in museums worldwide. The Gallery at 118 Cotton in West Monroe recently featured his pieces from Aug. 3 to Sept. 8.
The Northeast Louisiana Arts Council provides a platform for local artists. Khorasani, a resident of Lincoln Parish, was one of the artists the council spotlighted.
"What defines art as 'fine art' is a hard thing to pin down," Abigail Hardy, community development coordinator for the Northeast Louisiana Arts Council, said. "Our region is full of artists who we believe fit that definition, as broad as it may be, but who are drastically different from one to the next."
Khorasani gains inspiration for his art from the energy in the world around him. He mentions that the vibrant colors he sees in motion allow him to paint powerful images.
"I paint in layers, adding textures, but it's as if the paint itself takes part in the creative process," Khorasani stated in his artist biography. "I'm the tour guide on the journey, but there's another participant. My hands are virtually channeled into a universal source of energy."
Khorasani does not outwardly announce the energy presented in his paintings. It is something viewers can plainly see when they look at his art.
"One of my clients wrote something that said, 'Every time I look at my painting, I want to get out and start running,'" Khorasani said.
Khorasani's pieces reflect a bold, contemporary style. The colors of his paintings alternate from being muted to very bright and energetic.
He mainly uses acrylic paint or mixed media, utilizing a range of techniques to give personality to his paintings. Khorasani also switches between canvas, paper and board to paint. His artistic style is always changing, like the energy of the world around him.