Saulsberry's success inspires Black students
Fresh out of her master's program, Pamela Saulsberry got a call from Northeast Louisiana University that would later result in a position as a social work instructor.
Coming to Monroe would be a new and exciting time for her achievements to be recognized while helping those in need. So, she left Denver nervous but ready.
Some of the excitement faded when she discovered she was only hired because the social work department needed someone who was Black.
"I was told face-to-face that they needed a Black person, so they hired me and were glad I was qualified," Saulsberry said.
Not only was racism present at NLU, but it also plagued Monroe neighborhoods.
"One thing that struck me […] when I came here, there was this separation and nobody crossed the boundary line between ethnic groups," Saulsberry said. "It was like I was going back to some historical time."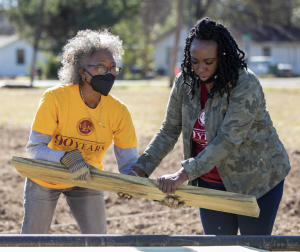 Coming to a segregated city was a big shock for Saulsberry because it was not what she grew up knowing.
Saulsberry was raised in Denver, Colorado.
Life for her, her siblings and her parents was difficult at times, but they made the most of it.
Her father is a War World II veteran who had to work 16 hours a day at two jobs to make ends meet.
He had a master's degree but couldn't find a job in his field due to his race.
Despite his hardships, he never missed a day of work or complained. He taught his children to work hard and be thankful.
"He would tell us that 'the law of aerodynamics says that a bumblebee is not supposed to fly because their body is too heavy for their wings, but a bumblebee doesn't care, it flies anyway'," Saulsberry said. "Society says that Black people are not supposed to achieve, but Black people don't care, we do it anyway."
This is only one of the many philosophies Saulsberry learned from her parents. These philosophies are what made her passionate about service.
Saulsberry knew she wanted to help people from a young age.
"In elementary school […] I stood on the corner with a badge and a belt and helped people cross the street," Saulsberry said. "Oftentimes, it was cold and snowy so a lot of people wouldn't be on their posts, but guess who was. The sponsor would come out and say 'Pamela, come inside, it's a bit of a blizzard out here.'"
She also was inspired to help people from Black activists like Martin Luther King Jr. and Maya Angelou.
"Before I even knew I wanted to be a social worker, I gravitated towards justice—social and economic. I wanted people to be treated fairly," Saulsberry said. "And that's something that [MLK] resonated, and that makes sense to me that people should be treated fairly socially and economically."
All these qualities she found in her parents, herself and Black activists inspired her to become a social worker.
One day her mother told her about social work, and she knew it was something that could fulfill her passion for helping others.
Saulsberry never dreamed of helping people by becoming a professor, but she has impacted many of her students—especially Black students.
"Like Maya Angelou said, 'If another human being is doing it, it is humanly possible, and me being a human being, I can do that too,'" Saulsberry said. "But it does help if you see another human being who looks like you, doing it."
One of Saulsberry's goals as the executive director of the Office of Diversity, Equity and Inclusion is to act as a mirror for Black students.
"There are more ordinary people than there are extraordinary people, but the ordinary people are capable of extraordinary things," Saulsberry said. "I hope that when people, especially young Black women, look at me, they see a window of what's possible but also they're able to see a mirror that they can see themselves doing that too."