Students show off professional looks at style show
The Career Center hosted the Career Style Show last week to show students what professional attire looks like.
Hanna Flynn, a business administration major and intern at the Career Center, modeled in the show. She said some attire worn by the models was from the Warhawk Wardrobe, a place where students can get clothing for interviews or professional events.
"I thought it would be so fun to show how I had incorporated some of the items I had gotten from the Warhawk Wardrobe into my personal style," Flynn said.
Kelly Morgan, a junior elementary education major who also walked the runway, said that your first impression is always a lasting impression.
"Learning professional style is important so you can be memorable," Morgan said.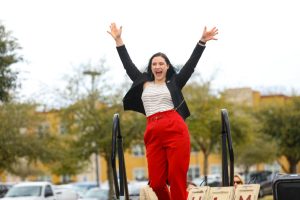 Mr. ULM, Jared Anders, emceed alongside Miss ULM, Asja Jordan. Anders said it's important to dress professionally because you never know who you might meet.
Jordan said that before an interview, she first asks herself, "What should I wear?"
"This event gives students clarity and direction when sifting through their closet or what they need to look for on their next shopping trip," Jordan said.