Kentucky conquers Warhawks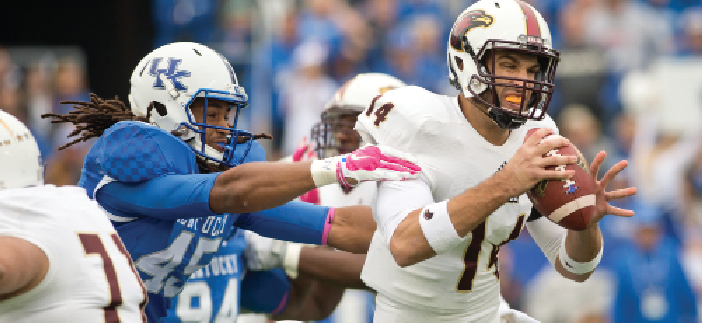 Dakota Ratley
October 12, 2014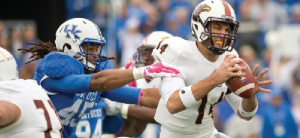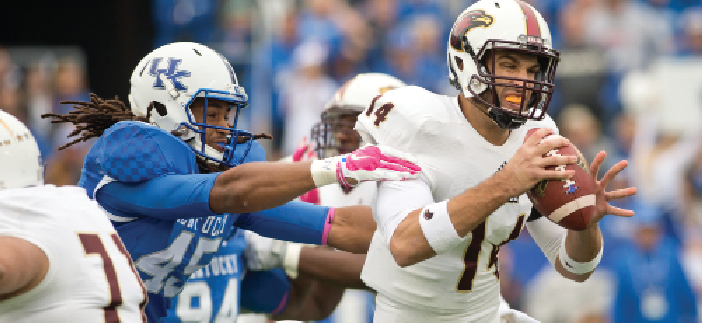 An early lead was not enough for the Warhawks, as the Wildcats routed ULM 48-14.
The Wildcats got on the board first with a field goal.
The Warhawks scored on a 10 play, 84-yard drive to take a 7-3 lead.
The Warhawk defense would force Kentucky into a long field goal that would fall short.
Kentucky's special teams blocked a 39-yard Justin Manton field goal attempt.
Kentucky's momentum was short-lived as linebacker Hunter Kissinger would make a circus interception that would give the Warhawks control of the ball at the Kentucky nine.
The very next play brought a ULM score as Pete Thomas found Kenzee Jackson for a touchdown.
It would be all Kentucky from there on out.
The Wildcats scored on a 83-yard pass from Patrick Towles to Javess Blue with 8:52 left in the second quarter.
On the very next drive, Josh Forrest returned a Pete Thomas interception 29 yards for a score. That would put the Wildcats up 17-14. Kentucky would not relinquish that lead.
Kentucky took a 24-14 lead into halftime following another Towles touchdown pass.
Coming out of the half, Kentucky put up another 21-point quarter on the Warhawks to put ULM down for good.
Kentucky would tack on another 3 in the fourth.
Head coach Todd Berry talked about what happened in the second half.
"When something bad happens in the second half, everybody starts pressing. And you do not press, you play," Berry said.
The loss drops ULM's record to 3-3. All three of the Warhawk losses have been at games away from Malone Stadium. 
Quarterback Brayle Brown said that it's hard to take a loss like this game.
"We are expecting to win every game, so if we come short of that, we feel like we failed,"Brown said.
The Warhawks have a bye week to try to get healthy before playing host to conference foe Texas State on Oct. 25.