Glow in the dark golf lights up Bayou Park
CAB went to infinity and beyond for Spring Fever this year. Last Monday, the bright lights of 18 mini golf holes lit up Bayou Park.
Each hole of golf brought its own challenge. From surprising twists and turns to farmhouses and ramps, you never knew what you were going to get.
Every student that attended the event first received a free burger and chips. After eating, everyone received a golf ball that lit up the color of your choice and a club to hit the course.
At least 100 students came to play golf.
Senior CAB member Wumi Ariwajoye said the event went really well and CAB was excited to do an event that switched things up for students.
"We decided to do a glow in the dark golf because we wanted to do something different for the students. Every year you got to switch it up," Ariwajoye said. "There is a total of around 100 putts and there is only like two left on the rack, so a lot of students showed up and came out. It was a really nice night and a really nice turnout."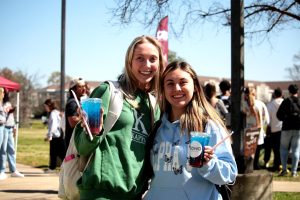 Freshman biology major Natalie Wilson enjoyed the set-up of the event and the opportunity to hang out with friends.
"The games were really cool. I liked how they had everything set up and the neon glow balls and everything," Wilson said.
Freshman secondary education major Ava Townley thought the event would be a great way to connect with people.
"I saw it on the advertisements and it just looked like a good time to come and connect with people," Townley said.
Students had the opportunity to go through two different courses, each with nine holes. The first course was much easier than the second with more straightforward challenges. But the second set of holes gave everyone a much bigger challenge.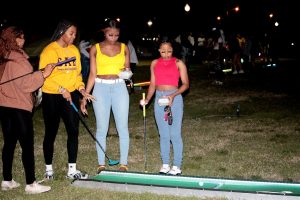 Glow golf was a great way to start Spring Fever and got students excited about the week to come. CAB definitely hit a hole-in-one with this event.