Students start fall semester with fun festivities
School is back in session, and the best way to start off the semester is with a warm welcome.
That's why Week of Welcome is one of the best times to be on campus. Week of Welcome is filled with fun and interesting events that happen all day throughout the week. There's barely a blank space in the schedule.
Although Week of Welcome and many events throughout the week were hosted by Campus Activities Board, there were so many other organizations that held events to welcome students.
Students moved onto campus on Aug. 12 and 13, so by Sunday they were all settled and ready for festivities.
That night, CAB hosted Game Night where students ate pizza and played games in order to have a chance to win prizes. These prizes were sponsored by Warhawk Village Apartments and were worth over $100.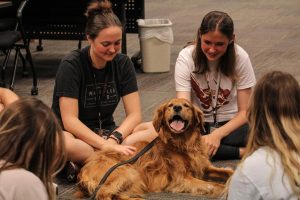 CAB also held a live game show on Wednesday. Wearing a silver sparkling suit, the game show host Joseph Tran was hard to miss. He started the show with a magic trick that got the students involved.
From there, they moved onto the trivia questions. The students all answered the questions on their phones and laughed as they realized the easy questions they had missed.
Many students attended CAB's events.
"CAB's Week of Welcome events had an excellent turnout!" CAB's Public Relations Officer Anna Pitney said. "One of them had 500 people attend, which is incredible."
And Week of Welcome just wouldn't be Week of Welcome without lunch socials.
Food given out throughout the week was sponsored by Chi Alpha, Student Government Association, CAB and 31 Ambassadors. Along with food, each social had booths set up where students could participate in different fun activities.
These booths with activities changed each day, but on Tuesday, students could get their caricature drawn or make a custom street sign. One day, therapy dogs were available on the second floor of the library if the semester stress hit early.
Students shared smiles and laughter as they ate and hung out with their friends. It was a great way to relax before classes started.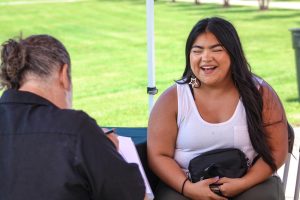 "Everyone appeared to be enjoying themselves while eating lunch, buying t-shirts, riding the water slide, using the photo booths and so much more," Pitney said.
Wednesday's lunch social was sponsored by SGA where they served wings from Kravins. Many students enjoyed the wings and played on inflatables that were set up in Bayou Park.
"With a huge number of students, we were able to converse with many students showing our initiative to them," SGA Academic Enhancement Department Head Tristan Sonnier said. "We want to be a voice for them."
The Baptist Collegiate Ministry also hosted many events during the start of the week. They started off Week of Welcome with a salsa tasting contest.
Students tried salsa from different restaurants located in the Monroe/West Monroe area without knowing where it came from. Then, they picked their favorite and voted on the best salsa.
The results were that El Sombrero in West Monroe has the best salsa around town.
The BCM Luau had many students attend as well. The event is usually a Week of Welcome favorite as students have the opportunity to dress up, eat and hangout.
"The purpose of the luau was to welcome everyone back to campus and, with that, hope that it would bring forth the making of new friendships as well as reconnecting with old friends," said BCM President Jenna Mason.
Pulled pork sandwiches, popcorn and snow cones were all given out at the luau. Local churches even had members there that freshman students could talk to if they were looking for a church to attend nearby.
This year's Week of Welcome exceeded expectations to say the least. So many organizations put on different events to bring students together.
"Week of Welcome is so important because it sets the tone for the rest of the year by creating extremely easy and fun ways for students to participate in events on campus," sophomore elementary education major Payton Lindstrom said. "It also encourages student engagement with one another."